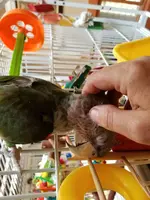 I had to move from California to North Carolina without a lot of notice and I was going to have to be staying with my Sister and Brother in Law. My 15 year old Cape Parrot always had his wings trimmed but my sister has a cat and I was concerned about his flying ability being crippled in a home with a cat. I was trying to cover every precaution. The plan was I would be staying there for a couple of months than moving on to Florida. On the day I left California I bought a brand new Avian Adventure portable cage so he could have a comfortable cage on the trip. After 5 days on the road we arrived in North Carolina. My sister and my brother in law were waiting in the driveway as I pulled up. My bird was sitting on top of the cage and i put him inside. Said my hello's and said I wanted to put the bird inside before I got my other pets out of the car. I carried the portable cage to the front door and set it down to open the door. When I set it down the pin that holds the door closed along with the spring literally popped out and the entire locking device fell apart at once popping the door open loudly in the proccess. My bird got spooked and flew out of the cage across the street and about 75 feet into a group of trees on the edge of a heavily wooded area. That was the last time I saw him. I put flyers up, I posted everywhere. He is gone.
I'm having trouble coping with this because aside from the fact that I'm a single veteran with ptsd, and my parrot has been my ONLY companion for the past 15 years. I cannot stop blaming myself. I know he's dead. There is no way he could survive in the wild more than a day or two and by the third day the temperatures were in the 30's. I just keep reliving knowing he was alone and terrified until the end where he likely starved to death or was killed by a predator or the elements. I know he was crying out for help and waiting for me to come get him. I'm sorry if this sounds morbid but it's the reality of what likely happened and it's tearing me up inside. I'm not sure what the point of even talking about this is but I sob for hours almost every day and it's been a month. I know it will get better but I don't think I'm ever going to be able to come to terms with now knowing what happened while somewhat knowing what likely happened. My family tries to be supportive with "I know what it's like to lose a pet" referring to my brother's dog they had to put to sleep when he got sick. That was devestating but there was closure and his dog lived a full life. My bird's life was mostly snuffed out at a young age and not in a nice manner.
He was supposed to be with me until the end. I'm almost 60 so I was expecting that he would outlive me. People tell me to have hope and that he may have been found or survived but I know that would be a million to one shot. I also keep some reptiles as a hobby but my little man was like my child. I can't even imagine my future without him. I cannot get another bird and I can't even walk down an aisle in a pet shop with bird supplies without breaking down into tears. There is not much else to say and I'm not sure if writing all of this is going to buy me some closure but I doubt it. Perhaps I'm over emotional but I just go back to if only I had kept his wings clipped or stuck with the first cage I had. I would still have my baby. I miss him so much every minute of day. The pain is unbearable and I barely have any interest in my other pets to the point that I 'm thinking of just getting rid of them.
Ironically just weeks before I left someone showed up at my front door asking if I had seen her African Gray that flew out of her window. She lived up the street. I had not and explained I had a bird and knew the aunguish she must be feeling. When she left I broke down in tears knowing how devestated she must be and reflecting on how glad I was that my little guy was safe and sound. I even went out that night and walked around looking for her bird but we had no luck. I guess that's all. Sorry this is so long but I'm hoping that writing it all down will help me process some of this and move on but i don't think I'm ever going to get over this. Goodbye Wickee, I miss you so much. I would give anything and everything I have to get you back.
Last edited: