Hi all! My Ona girl is close to homecoming! The breeder told me today she may be ready as soon as Saturday! She hasn't taken formula in several days so if she continues to refuse it they will let me take her home.
I know the change in environment will be stressful for her no matter what I do, but I'd like to make her transition as smooth as possible. There are two things I'm debating:
1. What should I bring her home in?
2. How should I adapt her to her new cage?
For bringing her home, I have a couple options. I have this backpack: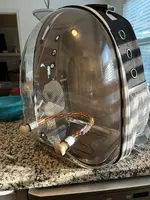 But I'm concerned she will be scared of it and I don't want her first time using it to be traumatic.
I also have her "smaller" cage but it's pretty large for a travel cage. I got it to use as a homecoming transition cage (before she's ready for the really big one) and to bring with us for overnight stays on any trips we go on.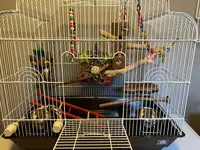 The third option is the breeder sells these types of travel cages: Kaytee Take Me with Travel Carrier
https://a.co/8m1n3Xd
. I could buy a small one just for taking her home and car rides.
One thing I've learned about Ona is she is apprehensive to new things and it takes her some time to adjust to anything she hasn't seen before. Most toys it takes her a bit to get over being scared and want to play with it. She seems more fearful or larger and more colorful toys. So my final question is should I take all toys out of her cage at first? Maybe only put in the only one I know she is comfortable with for the first couple days? Some of the ones I have in her cage now I'm worried will frighten her at first.
Bonus photo of her playing today: