Re: Can you "feel" if your conure is pregnant?
---
Im so glad things worked out! The piece of mind is worth it though. A few years ago (just over a month after his annual) Skittles got startled and flew into the window and his foot went limp. He was dazed and his foot was just dangling there. After about a minute, he resumed to normality. I too had a panic attack, I called my therapist and she talked me down. I then paid the ride who took me shortly before to take me and Skittles down to his vet. They squeezed me in. The vet examined him and saw no need for xrays and didn't find anything out of the ordinary nor any bruises. She attributed the 'foot dangling' to be a form of 'funny bone' type reaction. She gave me a discount on the exam and I went home. But you can bet that had I not done that, I'd have been worrying til his next annual.

I just think that sometimes the cost is worth it when it gives you piece of mind.
__________________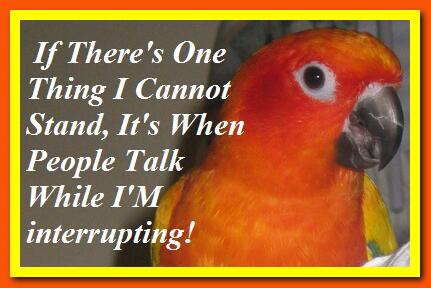 I have no sense of humor because my humor makes no sense.