I just found this forum when I was searching for random parrot info and after checking it out, it seemed like a good place to join.
I am currently owned by four cats and four parrots.
Peppers, my red lored amazon, started my love of parrots. I met him while volunteering at a local parrot rescue. Before that, I had been heard saying that I would NEVER own a bird because they are annoying. . . . . LOL! Peppers saw right through that one the first time he met me. He hopped right up on my arm and claimed me as his.
Then came Boomer, my little sun conure. He is a rehome also, from someone who was keeping him in a tiny finch cage for two years. . . We are still working on getting over his territorial agression and fear of hands but we are getting there.
Just recently I got a pair of BE2's. They are technically fosters for the rescue I work with but I seriously doubt they will be leaving my house. . . Sky and Sydney are a whole lot of fun but also a HUGE handful!
I look forward to getting to know you guys and all your beautiful fids!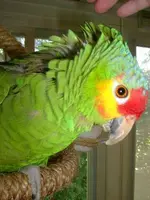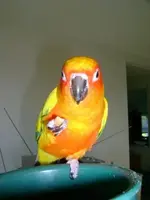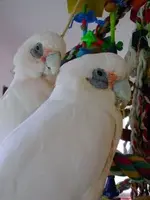 Last edited: