Hi everyone, long time lurker, first time poster.
Approx. 7 months ago we welcomed our feather friend, Harry a 3 month old Vosmaer Eclectus. What took us by concern recently is his plumage turning black. I've read other owners experiences where this is never a good sign and could indicate a nutritional deficiency.
His diet is mainly fruit and veg, in his cage we also have some seeds and pallets. Aside from the black plumage, he has shown no other symptoms we could indicate an unhealthy parrot or one that is in distress. He always sit ontop of his cage and we leave the top open whenever we are home. He's started to utter a few words and never likes to be left alone - infact whenever everyone leaves the lounge room, he'll jump off his perch and wander to my bedroom.
I realize he's still a baby and hasn't gone through his first molt. I'm just wondering if there's any room for concern here? As we're fairly new to this, he hasn't had his first check up yet. We haven't bathed him, just splashed some water, he doesn't seem very keen to get wet so we just let him be.
I've attached some before and after photos below. As you can see, the photos taken before were just went we got him. Bright green plumage that the male Eclectus is re known for.
Before: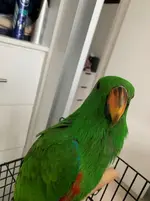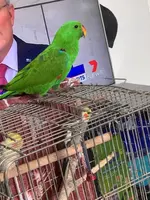 After: