Hey all :3 I'm Willy, nice to meet yall
this seems like a good forum to discuss and enjoy being around.
I'm 28 and I'm getting my first parrot in 3 days, as I write this! Very excited and hyped to see him/her
I haven't come up with a name, my mom wants to name it Jasper or Sasha but I'm buying the bird and I think I can come up with another good name, we'll see, once I find out its gender maybe on the 30th, I pick it up on the 1st.
Anyway, what I'm getting is a
Scarlet Macaw!
Very pretty bird, pretty expensive too, it's gonna be trained to fly to its owner once we bond together and whatnot. Here's a picture of.. well, two of them, might be able to choose between one or the other. Another person is reserving a possible male, so if there's a female and male then I'm getting the female, if both are same gender then I might be able to pick one.. so yeah, here they are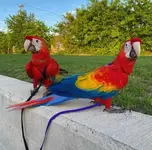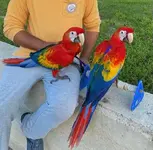 cute babies are 3 and a half months old
I'm also getting another bird, a green winged macaw I ordered first... but that's another story, may arrive within 3-12 months from some website I made a mistake and don't trust.
So yeah.. looking forward to seeing everyone's birds and learning more :3 I've never had a bird of my own until now soon, will have to feed it baby formula for not sure how long.. I've always wanted a parrot, love them cuties. xD

Last edited by a moderator: