Hi I have just joined this forum today; however, not sure if many people are active anymore.
My name is Jess and I have a Conure called 'Sweetie'. I bought it/he/she about a year and a half ago from a bird fodder store. He was a young baby who was hand raised from the shop owners.
It is totally devoted to me, Sweetie has always known I am his owner.(I will call Sweetie a male)
For about 4 months just gone I moved out of my parents home, and left him there. My lovely mother was happy to feed him and talk to him while I was waiting for the right time to bring him to my new rental.
Ever since he was a young baby he only ever ate seed, I tried the pellets but wasn't interested. I offered so many fresh home grown vegetables and fruit but he did not want a bar of it. Since, I have been able to get him to eat dried cranberries, fresh mango (when I am eating it in front of him) and sometimes banana and berries. However I have noticed he is literally obsessed with me. His cage is outside, in my alfresco, just outside my back glass door and windows. He sits up in the corner of the cage peering inside the lounge room to find me. He never goes to the back of the cage or even really sits on his other branches. Only at the front where he can see me. I have always put fresh tree branches, grass, swinging toys, and thistle in his cage. He is not interested, I like bottle brush because they have those little seed things that birds can chew off.
He has a bowl of seed, water and a mixture of fresh fruit, vegetables and seeds (sunflower- skinned ones which I eat, pepita seeds, almonds chopped up, dried cranberries, shredded carrot, shredded cabbage, fresh strawberries, banana) I change these every day and rotate them around, I also don't give him much because it goes in the bin lol.
He has developed more behaviour as he has gotten older, head bobbing, rocking from side to side, fanning out his feathers and strutting on a branch, hopping/jumping to music and recently learnt how to use his feet to hold food LOL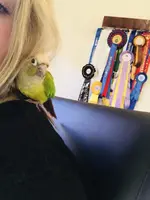 Here he is helping me study a few days ago. I bring him inside in the morning for about 40 minutes while I eat breakfast and get ready for Uni. I also bring him in during the day if I am home and in the evening before it's dark. He is the only bird, however, my neighbour hood is full of pigeons, lorikeets, sulfer crested cockatoos and other wild birds. He enjoys screaming in the evening.
Sent from my iPhone using Tapatalk