Sep 20, 2023
5
5
Parrots

Green Indian Ringneck Parrot 18 months old named Kiwi
Hi everyone!
I am new to the forum and also a new Indian Ringneck Mom. Kiwi is about 18 months old and we are getting to know each other very slowly. He has not been socialized at all and is very nervous. He doesn't show any aggression just the avoidance and startled fluttering in his cage. My profile pic is of him the first day he was brought home. I understood that he was clipped, but I soon found out he is not clipped. That is fine with me but I will have to go about his training and socialization in a different way. He had a nice flight around the house and thankfully he did not hurt himself. I had taken precautions, closed doors, blinds and turned off the ceiling fans. I did my best not to chase him and finally got close enough to gently throw a dish towel over him and pick him up. Needless to say, we will be working on trust and bonding before letting him have free rein of the house for his safety.
I do targeting with my daughter's green cheeks and her African Grey. I plan to use the same method with Kiwi as soon as he is comfortable with taking a treat from my hand. I appreciate any and all advice and suggestions and look forward to talking with everyone!
Green Cheek tickles are the best!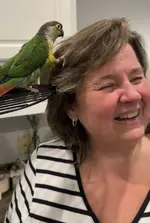 Michelle aka Lala