Mar 2, 2023
8
6
Parrots

I have 2 budgies
Hello from Ohio everyone 😃
I have two beautiful budgies that I brought home, from a local popular pet store, in October. They are so sweet and seem pretty content to be apart of our family. When we are home they have free range of the living room and dining rooms and a large flight cage in the living room with all their toys and perches. They go into their cage to rest or when they need to feel more comfortable ❤️. When we are out they have a room to themselves, with a smaller but large cage, for them to play, roam and rest when we are not home.
We are still working on their trust. Our Sweety will hop onto our finger and our Tweety will only hop onto a stick. They both will land in our hands if we have Millet🥰.
I do have a concern when it comes to their diet. For the past two months I have been attempting to get them to eat fresh vegetables and fruits. They have not shown any interest in these nutritional choices. They will tweet and fuss. At first I tired to stick to my guns and encourage them to eat the veggies/fruits. They would continue to fuss and sometimes buzz my head😂So I started mixing their food with their bird seeds. They seem content but I am not sure if they get enough of the fresh food for they seem to pick through it for the seeds.
I would appreciate any recommendations in getting them more interested in fresh foods. Thank you so much.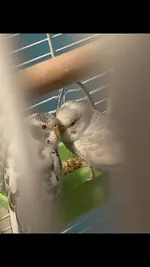 Last edited: