Aug 16, 2023
40
65
Parrots

Budgies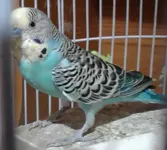 my pet birds!
I'm super new lol, so I've decided to post some pictures of my lovely buddies here!(English isn't my native language,so sorry if I've misspelled something wrong,or any grammatical mistakes!)
So let's start with co!
Coco is a yellow-face budgie from the second type(I know,he's looking kinda white because of the low quality of the pictures). He's around 3 years old while I'm writing this. He has a really funny and playful personality,he loves to play with pistacha and descovering new stuff. Here's some artworks I've made out of him! (Holy budgies have i forgot to mention that I'm an artsit?)
Now,here come pistacha!
Pistacha is a spangle-green budgie. Pista isn't that kind of a talkative bird,she doesn't love coco that much. The only thing that matters to her is food and water.
(I love drawing her more than anything else
bruh
)
I guess that was everything I had to say lmao.
thanks for reading! (I don't think that it worth it)