Re: Preening problems
---
Skittles will become quite relaxed when I preen him or scratch him. I can actually hold his tail and gently rub my fingers down and he won't attack me. He even lets me 'hold' onto his wing, which to me implies MAJOR trust.

I too would NEVER advise restraining a bird in order to preen them. You should only preen them when they want to be preened, hence no need for restraint.

Skittles does LOVE to bathe, boy does he. But he has his own 'unique' way of doing it. When he wants a bath, he'll sit on the kitchen faucet, ruffle his feathers and sneeze. He will usually then screech a few times and dip his head down. So what I do is fill a casserole dish I have with room temp water and he will 'jump' in on his own and go bonkers. He'll rapidly flap his wings spraying water all over the place. I'm usually soaked by the time he's done.
__________________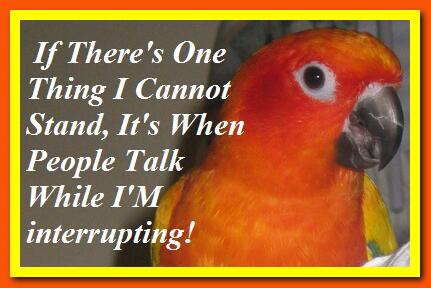 I have no sense of humor because my humor makes no sense.