Hey everyone!
Ok so I just noticed about two days ago, this pink spot on my lovebird (waffles) foot. It's on the top. I don't know if it's just because it's dry here. It just started to get really cold out and very dry. I assumed it wasn't bumblefoot, as I've only seen that on the bottom of the feet, but I don't know for sure.
Sometimes she walks in her poo and I have to clean it off. She doesn't let me grab her, so I usually just wet a q-tip and lightly wipe the poo off her foot through her cage bars. I'm just thinking maybe poo has dried onto her food and somehow caused a reaction or peeling of skin, I don't know
Also, I don't have any sandpaper perches. I have all wood. None are the smooth dowels either. I have one perch that is meant to file down the beak and nails (not sandpaper) but I have it at the bottom of her cage and she doesn't go on it that much. Again, the pink spot is on the top of her foot.
I don't know if I should be worried ��
I feed her roudybush pellets, occasional egg food, 1 nutriberry a day while I teach her to forage, and a little round thing of millet (usually to get her to go back in her cage).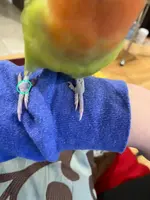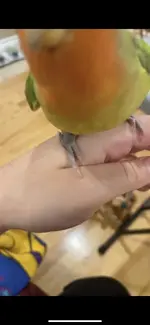 Last edited: